By car via Chamonix France
Highway A40, to Saint-Gervais, then follow the direction of Chamonix, then Argentière. In Argentière, follow the Col des Montets, Vallorcine, Martigny Swiss border direction.
Arrived in Vallorcine, cross the village, 3 km long. The Walser chalet to rent and/or the Bed and Breakfast is located at the end of the village, «Chef Lieu Les Plans» locality, 325 route des Confins du Valais, on the left side of the road, in front of a «bar-tabac», at 100 meters after Vallorcine's Tourism Office.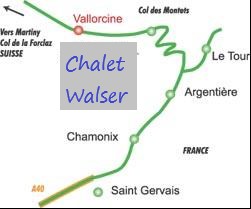 If the Col des Montets pass has to be closed officially by local authority because of avalanche danger ; it is then necessary to use and to drive through the Montets tunnel. The entrance of this tunnel is located at Montroc village after Argentiere.
Winter road conditions and about the Col des Montets
We do recommend you to watch closely at the road conditions via:
Recorded message from the DDE (Department of roads) about when cars can pass through the Montets Tunnel when Road 506 and the Col des Montets is closed: +33 (0)4 50 53 05 51
If you arrive from France please check Road Conditions via Chamonix Mont Blanc web site COL DES MONTETS VALLORCINE CHAMONIX ROAD CONDITIONS

Or call Vallorcine Tourism Office at +33 (0)4 50 54 60 71
Snow tires and chains required.
In case of an avalanche danger between Vallorcine and Argentière and the Col des Montets closure, road trafic via the new Tunnel des Montets.
By car via Martigny Switzerland 
In Martigny, take the Chamonix France direction, drive over the Forclaz pass then the Châtelard. Go through the border and you are in Vallorcine. The Anatase is located at the entrance of the village, at « Chef Lieu Les Plans» locality, on the right side of the street, in front of «bar-tabac» and before Vallorcine's Tourism Office.
If you arrive via Martigny Switzerland and the Forclaz Pass, watch closely at Winter Road Tunnel and Passes Conditions via
SWITZERLAND ROAD PASSES CONDITIONS
By train via Chamonix France
Many TGV main lines from Paris and other European cities to Annecy, or Lyon, or Bellegarde, or Chambery Aix les Bains France and then TRAIN EXPRESS REGIONAL FRANCE to St Gervais les Bains Le Fayet France.
Next ride, the Mont Blanc Express train from St Gervais les Bains le Fayet via Chamonix to Vallorcine and Switzerland.
Download MONT BLANC EXPRESS TRAIN Actual TIMETABLE
By train via Martigny Switzerland
To arrive by train to Vallorcine via Switzerland, the city of Martigny is the place to reach. Many high speed trains, from many European cities are going all the way to Switzerland, Geneva or Lausanne train stations. Check this link for time table and train ticket price https://www.sbb.ch/en/timetable.html. Once you reach Martigny in Switzerland, you will have to switch train for mountain train ride, the Mont Blanc Express train from Martigny Switzerland all the way to Vallorcine France, where you will have to unload the train. If you stay in this train you will end up to Chamonix Mont Blanc France. Check this link for time table https://www.chamonix.com/travel-information,13,en.html
By plane via Geneva in Switzerland
To arrive by plane via Geneva airport in Switzerland, you can jump in a train as explained above or you can use one of multiple vans that will pick you up directly at the airport to bring you one hour and half later to Vallorcine in France. Check these links for booking a van https://www.mountaindropoffs.com/ or https://www.chamexpress.com/Prices.html
Access Maps to Vallorcine Chamonix France