The Walser Chalet Rental in Vallorcine
You want to get together with family and rent a chalet in the Alps in Haute Savoie, spend your skiing or mountaineering vacation in the valley of Chamonix Mont Blanc, come and stay as a group, we can rent you our mountain chalet for a full week or an extended week-end, even for a month or the all season winter or summer. The Walser chalet is a certified 4 stars Catered or Self Catered Chalet, the occupancy is flexible from 1 up to 10 guests maximum.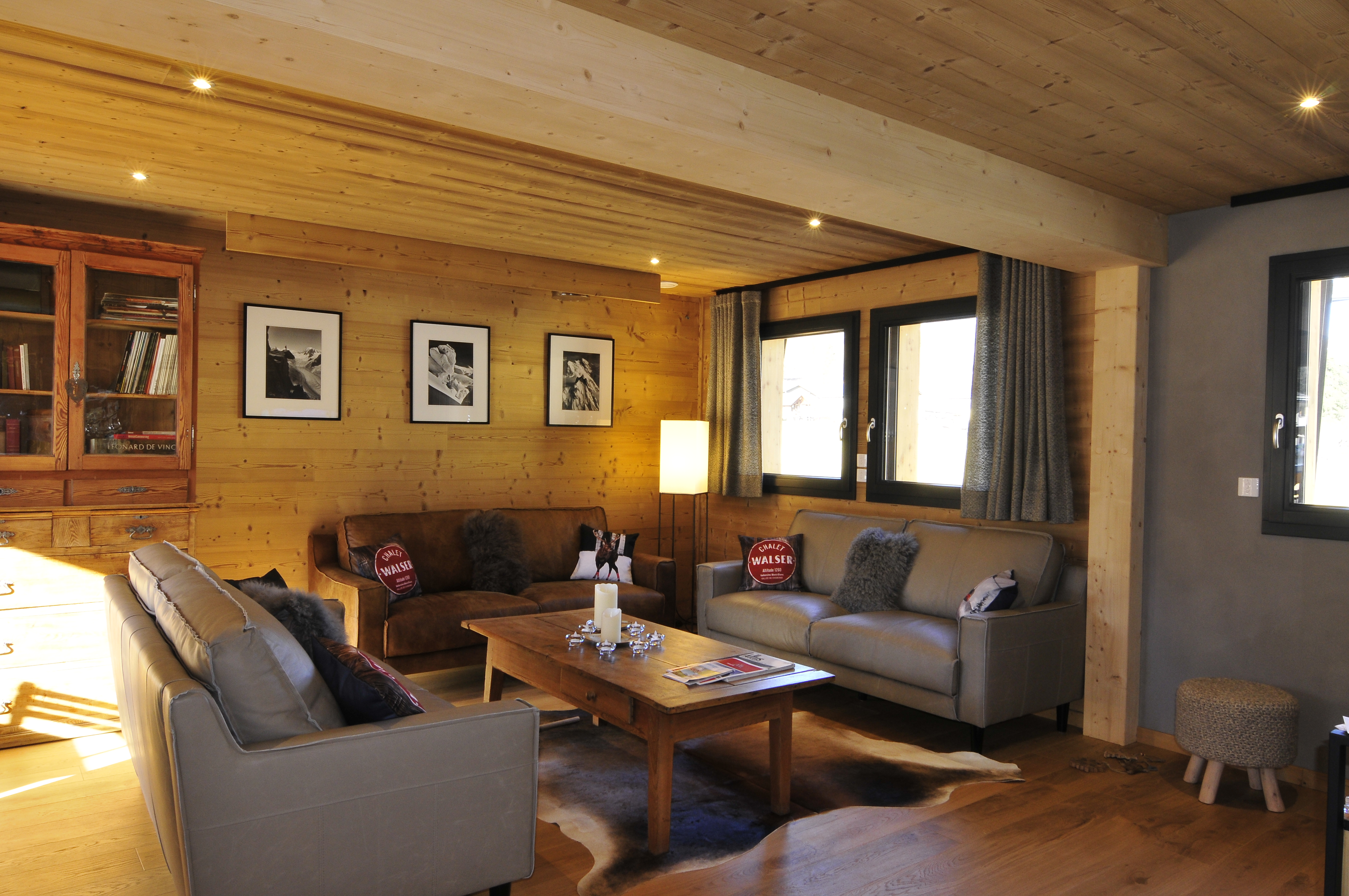 You will then have a house built in 2016, spacious, contemporary, mountain design, comfortable and fully equipped. (high-end kitchen, geothermal heating and hot water, parking, large living room, high definition television, Blue Ray player, free WiFi, 4 bedrooms including a dormitory and 4 bathrooms).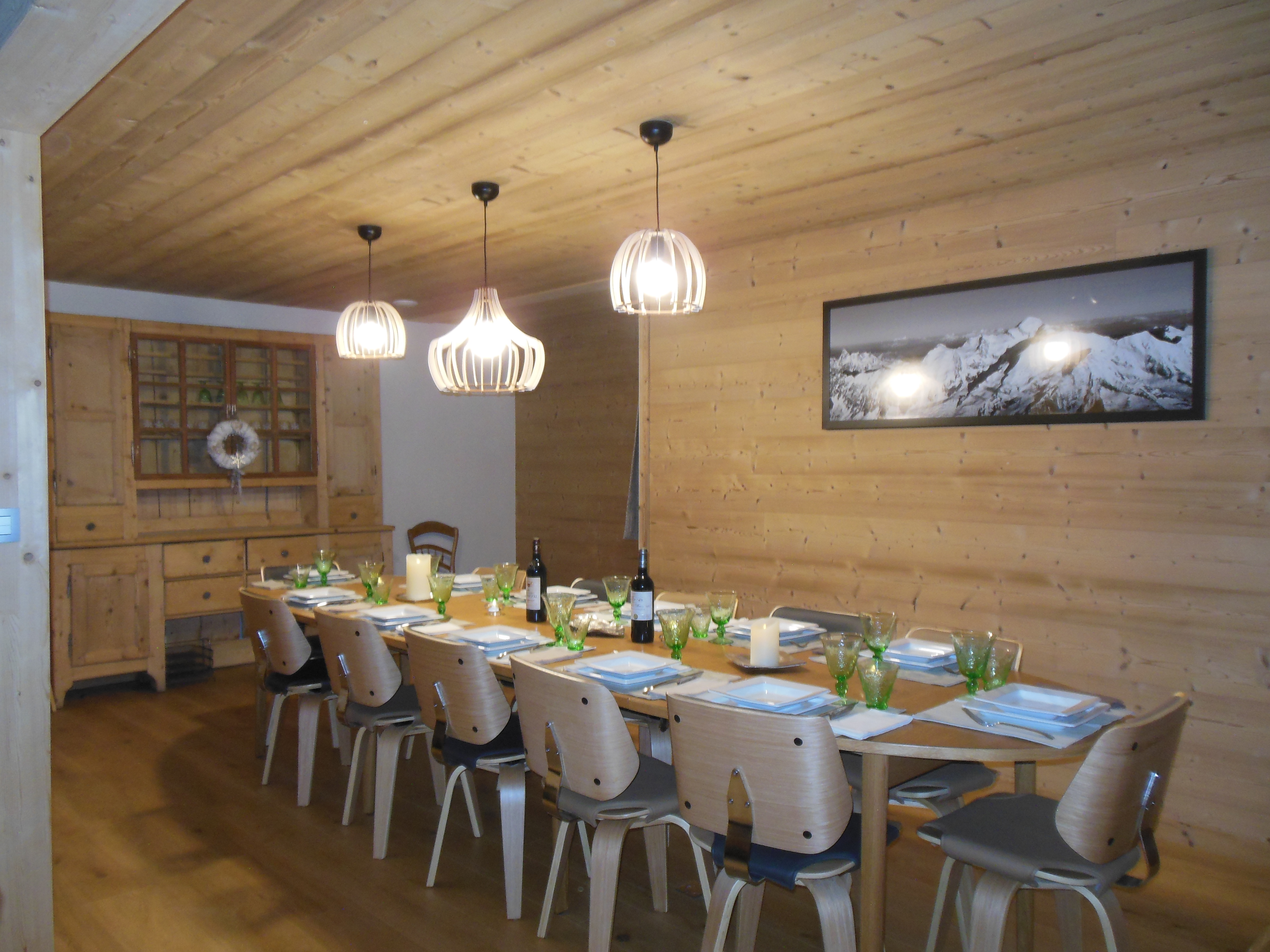 Laundry with machines (washer and dryer) is available to the guest.  Linen, bed sheets and towels can be rented at an extra cost.
Winter
The chalet is located at the bottom of the ski and snowboard slopes of Vallorcine- Balme- Le Tour ski area. The Walser chalet is a 5 minutes walk from the 8-seaters gondola of our family ski town of Vallorcine Mont Blanc mountain range and part of the Chamonix valley and ski resorts of Chamonix Mont Blanc. Vallorcine Balme, is one of the five Compagnie du Mont Blanc ski areas, besides the ski descent of the Valley Blanche from the Aiguille du Midi. There are many advantages to rent the Walser chalet, because :  
since 2004, Vallorcine is equipped with an 8-seater gondola serving the Domaine de Balme Le Tour Vallorcine located in the Chamonix Mont Blanc valley. This is a family resort and visually open throughout the Mont Blanc. There is plenty of off-piste skiing directly from the ski area, either from the French side, or from the Swiss side.
another asset, our Anatase chalet is located 5 minutes walk from the gondola and from the Ecole de Ski Français. A red difficulty ski slope takes you back to the chalet while skiing or riding, depending on snow conditions and those who are tired can descend by cable car. 
the Ecole du Ski Français is located at the foot of the gondola, 5 minutes walk from the chalet and if there is beginners, ski school takes them to the Poya at the other end of the village and bring them back to the gondola at the end of ski lesson. You can also get there by train because our Vallorcine village is served by a railway line going from Chamonix to Martigny in Switzerland and we have two train stations in Vallorcine, one in Chef Lieu at a 5 minutes walk away from the chalet and the other train station at the Buet la Poya three kilometers from the village center and where are the ski lifts for beginners. 
You can also use the services of the Walser chalet owner, ski instructor and mountain guide if some of you need a private ski instructor or a mountain guide to ski the Vallée Blanche in Chamonix or to learn on how to ski off piste and on glacier www.mountainguide-chamonix.com
The cross-country skiing and snowshoeing start, marked and maintained is 200 meters from the chalet.
You will find everything close by from the chalet, two rental ski and snowboard shops, a grocery store, bread, bars and tobacco. But there are also several restaurants in the village and next to the chalet. A free outdoor skating rink, at a 5 minutes' walk from the chalet that is open at night since winter season 2009-2010. Sliding runs close by from the chalet. Possibility of ski joring and dog sled ride.
Transportation by train is free from Vallorcine to Chamonix and even further down to Servoz on presentation of the guest card that we give each member of your group at the beginning of stay. This allow skiers who want to travel to other ski resorts such as les Grands Montets and la Flégère Brévent to go there by train and therefore not to drive. Ski resorts on North side of the valley of Chamonix are not connected to each other because there are glaciers between each ski area, which explains the need for transportation that are recommended and possible via the train to visit the other ski areas. 
You can also got to the website www.compagniedumontblanc.com to discover all the skiing and snowboarding sites in the Chamonix valley.
Summer
Our mountain village of Vallorcine www.vallorcine.com  in the Mont Blanc mountain range, labeled Village Terre d'Avenir, a location close to Chamonix downtown, Switzerland and Italy has great advantages:
the tranquility of rural green mountain village in summer while being near Chamonix Mont Blanc and so Chamonix area, which is quite popular because of its beautiful natural sites around the Mer de Glace, Aiguille du Midi and the Mont Blanc summit 4810 meters, Aiguilles of Chamonix,  the Tour and Argentière and Bossons glaciers and Trient glacier in Switzerland
on the route of the famous hiking trip of the Tour du Mont Blanc, well known for mountain trail running races as Marathon of Mont Blanc, as the Ultra Trail of Mont Blanc,  as the Aiguilles Rouges trail and to enjoy all the mountains activities and alpinism
since 2004, Vallorcine is equipped with a 8-seater gondola that takes you to the altitude pastures of Balme Le Tour Vallorcine and so you can enjoy hiking through these mountain pastures. From the gondola lift, possibility of hiking to the Albert 1er mountain hut to see Le Tour glacier closely or pick blueberries, or just to admire the panorama of the valley of Chamonix and the Mont Blanc mountain range or just for lunch in mountain farm. And as our chalet is located 5 minutes' walk from the gondola, people wishing to access and hiking in altitude quickly, can use this lift
but a multitude of hiking paths directly from the chalet allow you to walk, either via shady walks on flat trails or long day hikes with lots of ascent and positive denivalation, hikes to the Loriaz mountain hut, Col de la Terrasse, Mont Buet called also "Mont Blanc for ladies", Emosson dam, Col de Balme, Lac Blanc mountain hut....
Additional services are also offered, grocery basket of commodities, grocery delivery, meal preparation, babysitting and other services to set up as required.
To ensure the success of your holiday in the mountains, your search for the authentic mountain style, your need for comfort and chalet ambiance; remember our Chamoniarde experience to help you find the accommodation of your dreams in the exceptional Chamonix valley natural site. 
Rental opportunities as a self catered chalet or fully catered chalet, thank you to contact us so that we can meet your needs.
Certified Furnished 4* Self Catered Chalet
A furnished 4 STARS certified Rental Chalet, renewed and approved by Haute Savoie FRANCE TOURISM OFFICES MARCH 2019 and valid for 5 years.